About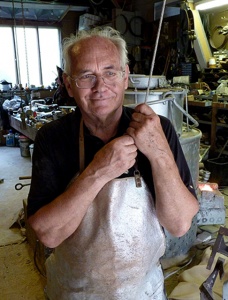 Bruce P. Fink
Work has been published and featured by:
DIVERSION MAGAZINE Dream Home Section, HOUSE & GARDEN Magazine Innovative Building, PLAYBOY Magazine and their In-house Publications numerous times, THE GUILD ARCHITECT'S SOURCEBOOK of Fine Art 9 times, ART CASTING JOURNAL feature series 2000 & 2001, and RODALE PRESS Design Books.
Education: American Academy of Art, Chicago, Advertising Art Major 1 yr.
University of Illinois, Champaign / Urbana: Industrial Design BFA with Sculpture and Fine Art majors 6 yr.
Upon Graduation: Redesigned and Constructed over 18 individual FOUNDRY CASTING ARRANGEMENTS for self and differing schools and artists.
1965-68: Layton School of Art, Instructor and head of Sculpture Dept. (now known as the Milwaukee Institute of Art & Design)
1969-72: Rhode Island School of Design: Foundry and Fabrication Instructor
1970 Directed & arranged student and faculty exhibits for the International Foundrymen's Conference, Cleveland and Montreal, Canada
Present: Full time Sculptor / Designer doing a series of site specific and general commissions for establishments around the USA, Canada, Mexico and South America, Australia and Europe in a variety of media including cast and molten sprayed bronze, copper and aluminum often doubling as doors, gates and entries as well as Garden Sculptures in sited remote areas.
Designed and subcontracted 12 custom solar and energy saving homes with sculptural form features while training others, students, and college graduates with often innovative building systems in commercial and native media.
1991-Present: Started conducting several yearly classes for special needs and family stressed groups through the United Health Services Department of Connecticut and UPTYME of Rhode Island (a prevention and Early Intervention Training Service) to promote creative outlets and discoveries in areas and media that are seldom conventionally touched.
1993 to 2001: Opened an additional Studio in Hawaii for personal study of tropical plants and ocean life while also diving, painting and working with Lanai natives. Set up a funded community fabrication workshop/studio for native arts in the heart of Lanai City,
2001-02: Visiting Artist in Residence / Hawaii State Foundation on Culture and the Arts on the Island of Lana`i, Hawaii while creating a 22 Ft. tall bronze and mixed media sculpture with participatory interactions of the locals and students of the Lana`i K-12 Island Public School.
Career: Presently continue doing sculpture and site specific commissions often working with directed desires of Architects and Designers while occasionally employing or contracting custom professionals per commission when executing larger scale public works. Sculptures are usually fabricated, metalized and cast in blended combinations ranging in sizes from small hand held to several tons and stories tall for site specific installations.
Also visit Bruce at